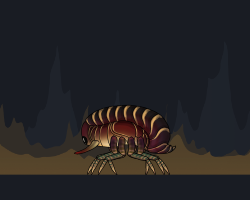 Strank
One of the least aggressive enemies, it scurries around and has a weak bite. It as no ranged attack, and is easy to kill. Damage only comes from direct contact.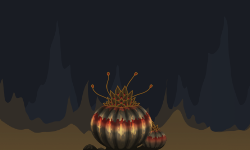 Oyse
A plant based enemy, which spawns on top of rocks. If it is left unattended, it will spawn more buds around itself. Can't move, but if the rock below it is removed, it will fall to the next rock.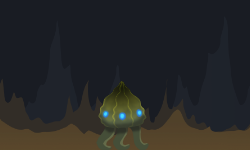 Damidon
With similarities to a 'land-based' octopus, Damidon is extremely fast and agile. It can jump much higher than most enemies. Its attack is to cover you in acid jelly that it throws out at you.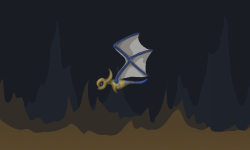 Ribbet
A bat like creature that flies around the caves. Quite small, but has a nasty bite.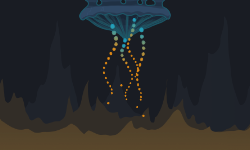 Hatter
Sticks to the underside of rocks and does not move. Its tentacles are poisonous, but it also drops poisonous liquid on you if you get underneath it. If the rock above it is destroyed, it will kill it.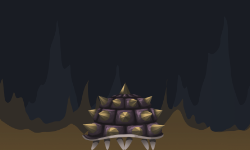 Arrog
A little creature with a hard shell. Extremely difficult to kill, unless you manage to get it from the underside. It fires out spikes from its shell if you get too close.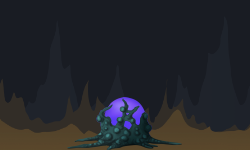 Ovaline
A putrid plant based lifeform that sits on top of rocks. It can't move unless the rock below it is removed, and then it falls down. If you get close to it, it will release a cloud of stench so corrosive it will eat through your suit.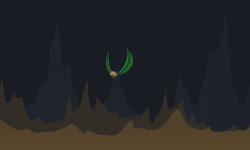 Growly
One of the smallest enemies, but flies very fast. Hard to spot in the dark caves so keep a lookout. It has a weak bite, but it can hurt over time. Easy to kill, if you can manage to hit it.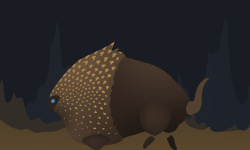 Eff
One of the biggest creatures around. Slow to move unless you get close to it and it breaks out into a charge. If it manages to catch you, you'll surely have some bruises. Very hard skin, so it is difficult to kill.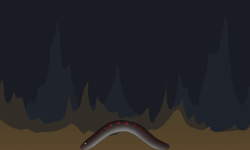 Riverine
A small worm like creature that crawls along the rock surface. Watch out for its bite as it's venomous. Easy to kill and quite slow movement.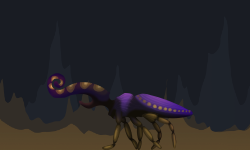 Draker
Another large enemy. Runs around the caves and will catch you easily if you don't watch out. It extends its snout if you get close to him, and you would be wise to keep away. Quite a sturdy specimen, and needs a lot of pummeling to defeat.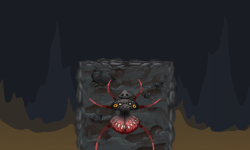 Creeble
One of the few enemies that keeps to the rocks, rather than the edges. They scurry around and if they get close to you they will weave a deadly web that will stick to every part of you. Best way to deal with these guys is to destroy the rock they are on.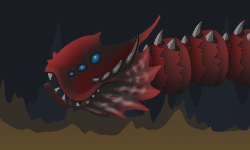 Terrator
The biggest enemy you'll have to fight. It lives deep in the rocks and you rarely see it, but he's always there. If you stay stationary for too long, it will burrow out of the rock and eat you up in one gulp.
Share and Enjoy