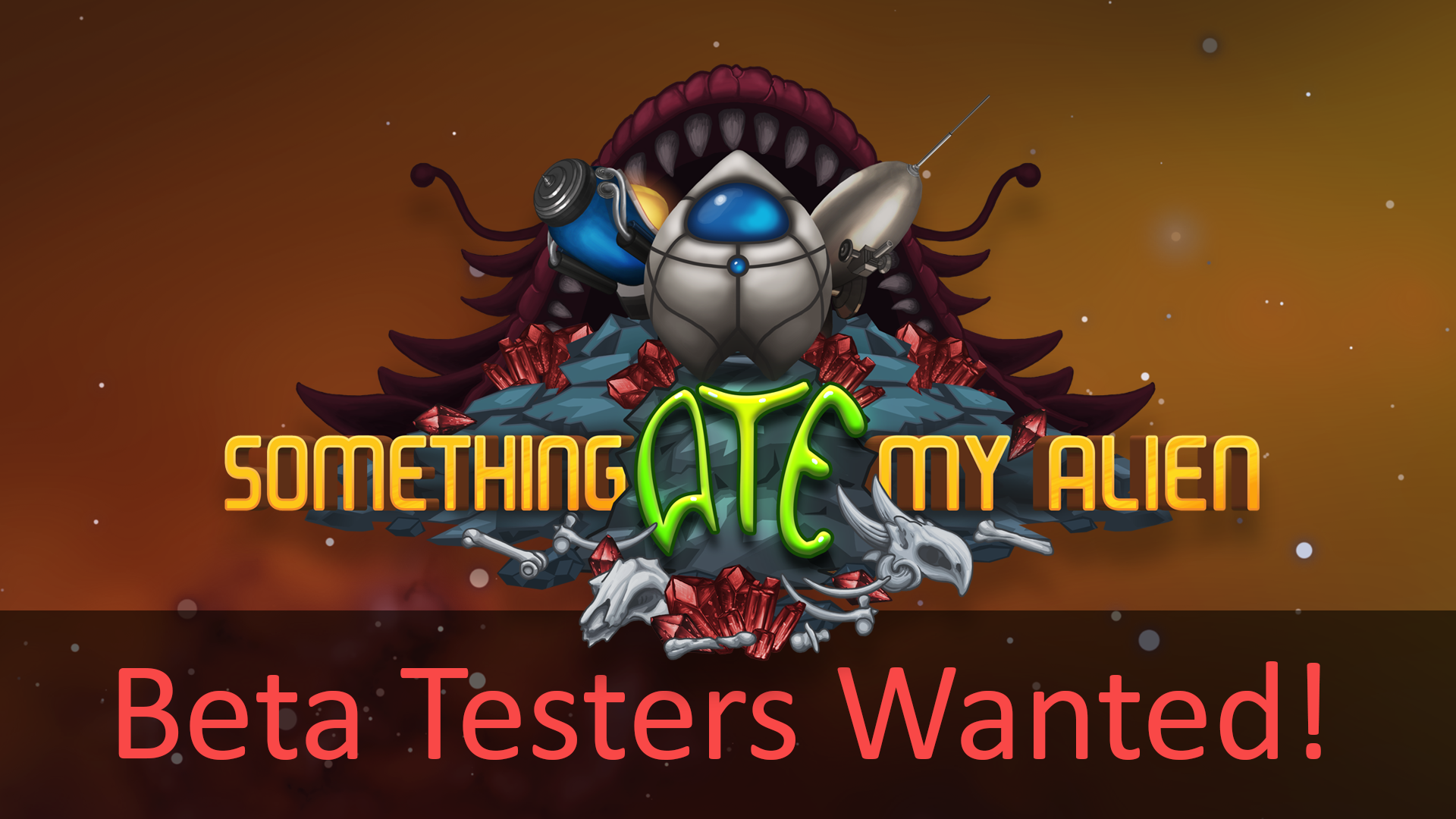 We are currently looking for Beta testers for our game "Something Ate My Alien".
We have just moved from Alpha testing to Beta. This means that we will not be adding any new features and such from now on, and are now looking for bugs and tweaks to the game.
This is a limited access event, so it will be based on a first come, first served basis.
Currently, we are testing Windows PC, Linux and MacOS versions of the game.
Our current trailer is here:
If you wish to join the Beta testing, please read below thoroughly, and join the forums by clicking 
here
 and then send an email to 
info@rokabiumgames.com
 to say you 'agree and understand' the rules.
You will need to have a Steam account,
as the download is from there and also there are now Steam Achievements and cloud saves in the game.
If you wish to contact us on Steam, use the profile: 
https://steamcommunity.com/id/robdon/
----------------------------------------
Once we receive your email, you will be added to the Test forums and send a download link and instructions.
Everything feature wise is now complete and we are looking to squish as many bugs as possible before the release in April. We have tested internally and are fairly confident there aren't any big ground breaking bugs, but there could be a few little ones around. 
*** If you participate in the Beta test, you must safeguard and prevent unauthorized access to, copying, disclosure, and unauthorized use of the game to the best of your ability. 
The Beta Key we email to you is for YOUR use only and linked to your Steam account and email address. You must not share this key or forward the download link to anyone else ***
Although we will send you an Beta key for Steam, you will also need an Beta Key from us, that is entered in game. This is just for the testing and is used to identify you in reports and logs that get sent to our server for debugging. This makes it easier for us to track and see problems.
The Beta Key from us lasts for 30 days from the date you receive it, but just email us again if it expires and you want to continue testing the game and we can extend that.
What we are looking for is any bugs or problems you find.
So you are aware, in Beta mode the game is sending back info to our server from your PC. Apart from your IP, there is no personal info being logged. It is only technical data about the game and Unity that we need to try to find bugs and problems with. This includes error messages from the game, your PC spec, FPS rates, screen sizes, progress in the game etc. Also, some info is sent to Unity for Crash and Exception logging. You can read about their bit here: 
https://unity3d.com/legal/gdpr
By downloading and playing the game you are agreeing to this.
This data will not be published or given to any other party, and is used solely to help with us finding problems with this game "Something Ate My Alien".
If you do find problems, please post in the test forum, or send an email to us, with a screenshot or description of what the problem was.
You are free to share any screenshots, video captures or info about the game.
If you want to join our Discord server, use this link: 
https://discord.gg/JuCYqYe
Thanks for taking time to participate in this Beta test, and hopefully you have fun playing our game.
Rob & Kat.